National Instruments calibration services provided by DGI Metrology saves time, money and our advanced National Instruments calibration lab assures you of valid calibrations with accreditation.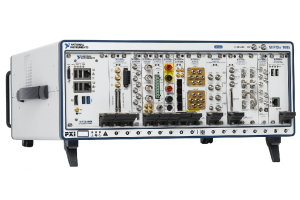 National Instruments DAQ devices are innovative devices used for Test, Measurement and Control. The devices are found in the Energy, Aerospace and Defense, Electronics, Automotive, Heavy Equipment industries and more. For this reason we use  only National Instruments furnished calibration procedures to provide National Instruments calibration services. We currently have over 30 National Instruments calibration procedures validated in our NI library. We can customize a verification to your specific needs. Example, some National Instruments calibration procedures for certain models do not include a frequency response or flatness test. Some procedures are frankly overkill. We can modify the procedure and shorten the time (and expense) to get a report you need. New models (to us) will require a study of the procedure which usually takes about two days. We use National Instruments Calibration Executive Software whenever possible but some models require composition of a National Instruments Virtual Instrument with National Instruments LabVIEW software (vi) to facilitate the calibration. That is normally accomplished in about 10-20 days depending upon complexity. After that the work is accomplished quickly. National Instruments calibrations are ISO/IEC 17025:2017 accredited, affordable and turnaround time is fast.
National Instruments calibration provided by us includes NI models PXI, PXIe, PCI, C Series, M-Series, USB and RIO. Our latest additions include PXIe-4330, PXIe-4339, PXIe-4353, RM-4339 and TC-4353. Whatever your model call or write to see how we can save you time and money.
A short list of satisfied National Instruments calibration clients include BAE Systems, Sierra Nevada, Lord, NASA Huntsville, Canadian Space Agency, Hamilton Sundstran, US Army, BMW, Faurecia, Caterpillar, Defense Research Development Canada, GE Power and Water, Mekra-Lang.
As with everything we do, we offer 100% satisfaction guarantee on all our work.
We develop National Instruments LabVIEW software for National Instruments hardware and Data Translation hardware platforms.
See our National Instrument LabVIEW Software Development Services